Custom Paint by Numbers - A unique twist on painting!
Custom paint by numbers, a perfect way to unleash your creativity without the fuss of traditional painting. From your baby to your toddler and teen, partner, parents, and grandparents, it's the perfect activity for everyone.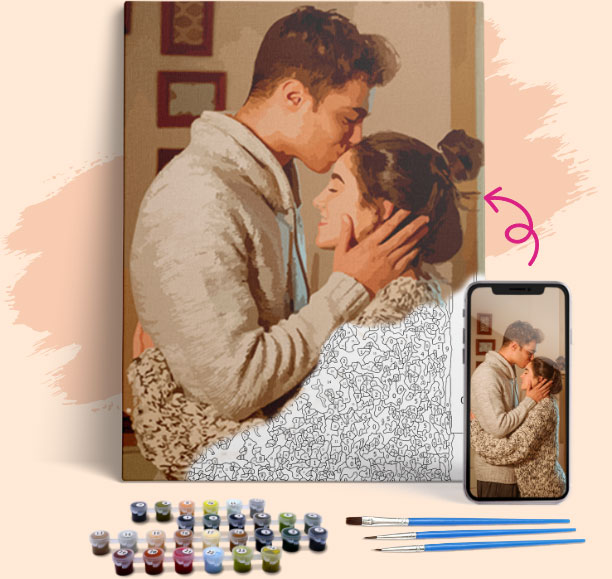 Create the Art of Memory with
Custom paint by number
Starts from €34.99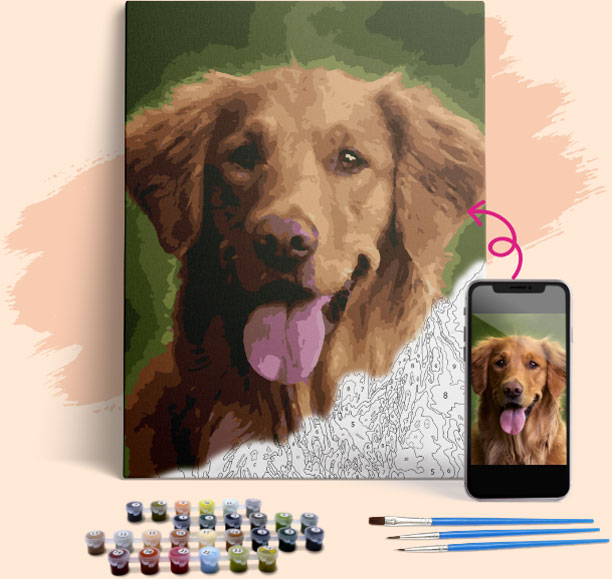 Celebrate your Furry friend with
Custom pet painting
Starts from €34.99
OMG! I need one, How to order my kit?
Get ready to paint like a pro with Art of Paint by Numbers. Here's how to order your kit today!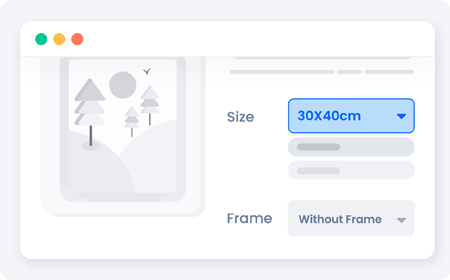 01.

Select your ideal size
Select an ideal canvas dimension that suits your needs, and choose from a variety of sizes available, ranging from small to extra large.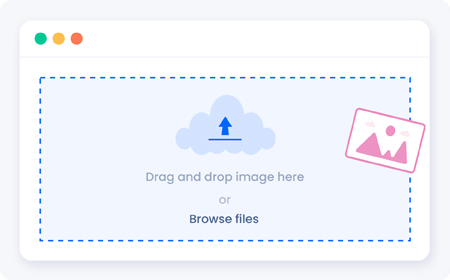 Upload a picture that brings you joy and holds special meaning, whether it's a nostalgic snapshot or a renowned masterpiece.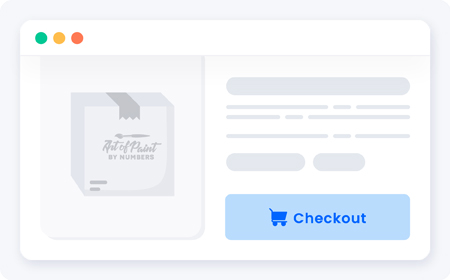 Go to checkout page, enter your billing and shipping details, and click submit. The painting kit order will be processed shortly!
Make your memories come to life with Custom Paint by Numbers! This unique product allows you to capture your best memories in a special way. Whether it's a family portrait or a breathtaking landscape, this paint by numbers kit allows you to experience the joy of painting and create your own masterpiece. So, bring back your memories to life!
Turn pet memories into art!
You'll love the feeling of creating something beautiful that captures your best memories and the personality of your furry friend. Creating pet artwork is also a sign of appreciation and love for your pet, and it can be a great way to add a personal touch to your home decor. So, celebrate your pet and create a masterpiece for them!
Custom paint by number is the perfect activity to add some excitement to your life. Whether you are young or old, this activity is sure to bring joy and relaxation to your day. The beauty of this product lies in the fact that it is custom made and designed according to your personal preferences, suggestions and requirements.
A unique, personal and fun gift!
It is a unique and creative gift for any occasion, be it a birthday, anniversary, or any other celebration for people who love art, creatively and spending their leisure time in a productive way. What makes this product an amazing gift is that it lets you create your very own masterpiece with minimum effort.
Nurture your imaginative inclination and ease mental, emotional and physical hurdles with the Art of Paint by Numbers – Suitable for novices and proficient painters a like!
Engaging in a comforting activity is a soothing and gratifying experience that provides individuals with immense solace, tranquillity, and emotional respite. Paint by numbers is an act of kindness towards oneself aid tremendously in improving mental wellbeing by reducing stress levels and promoting feelings of calmness as well as contentment.
With the widespread availability of paint by number kits, making painting a cakewalk for everyone. From novices to experienced painters, the art of creating masterpieces can now be mastered by all with ease. Indeed, it is safe to say that there's never been a better time than now for anyone interested in exploring the world of painting!
The decor in the space with intricate details and exquisite elements that immediately capture the attention of anyone who enters. Each piece has been carefully chosen to create a cohesive and visually striking aesthetic that feels both luxurious and welcoming at once. From the rich textures to the sparkling brilliance of art.
Team bonding is an essential aspect of building a cohesive and effective team. It goes beyond just having fun activities or socialising outside of work hours. True team bonding involves creating trust, mutual respect, open communication channels, and shared goals amongst the members. And team bonding is important for everyone.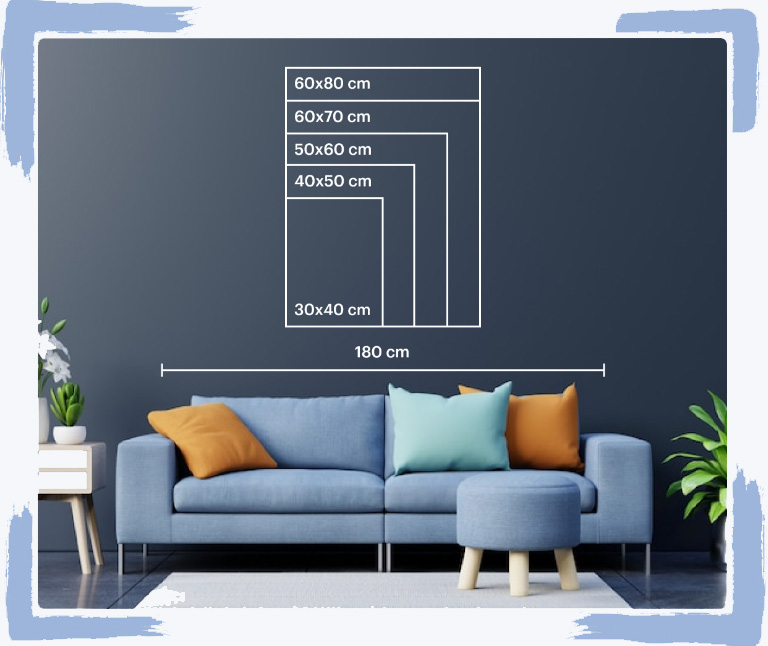 Best selling sizes available!
Reignite your interest in painting by trying out our personalised artwork that is currently offered in our most popular sizes!
We provide a range of dimensions to accommodate various framing requirements. We offer options for frameless kits such as 30×40 cm, 40×50 cm, 50×60 cm, 60×70 cm and 60×80 cm sizes or DIY (Do it Yourself) framing alternatives ranging from 30X40 cm to 60X70 cm. Additionally, assembled frames are also available in the sizes of 30X40 cm and 40X50 cm.
What comes in our custom art kit?
We offer three types of painting kits, each designed to cater to your specific needs. And you may choose from: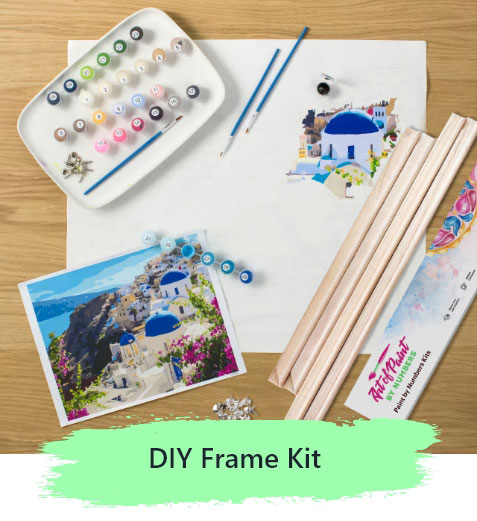 100% linen canvas with numbers printed on the material
Acrylic based set of high quality, non toxic and environment friendly paints
Set of 3 brushes with nylon bristels
Color guide print / paper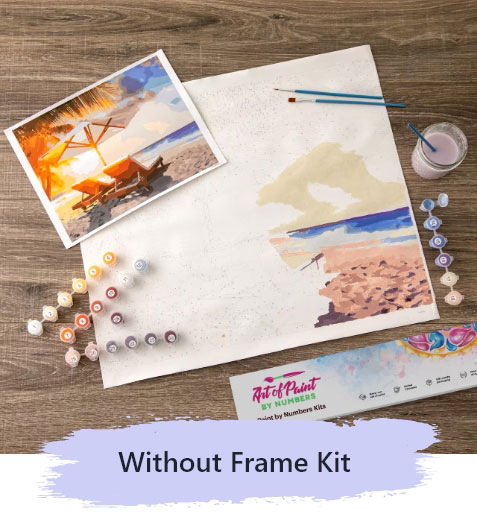 A wooden pre-cut frame that can be assembled by the user.
100% linen canvas with numbers printed on the material
Acrylic based set of high quality, non toxic and environment friendly paints
Set of 3 brushes with nylon bristels
Color guide print / paper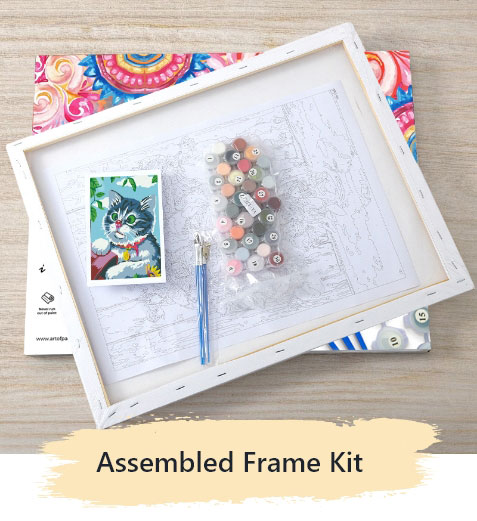 A wooden frame that is pre-assembled and ready to use.
Acrylic based set of high quality, non toxic and environment friendly paints
Set of 3 brushes with nylon bristels
Color guide print / paper
An ideal image for custom paint by numbers are:
Note: Be sure to crop your image as you upload according to your liking, as we allow you to do so in the beginning.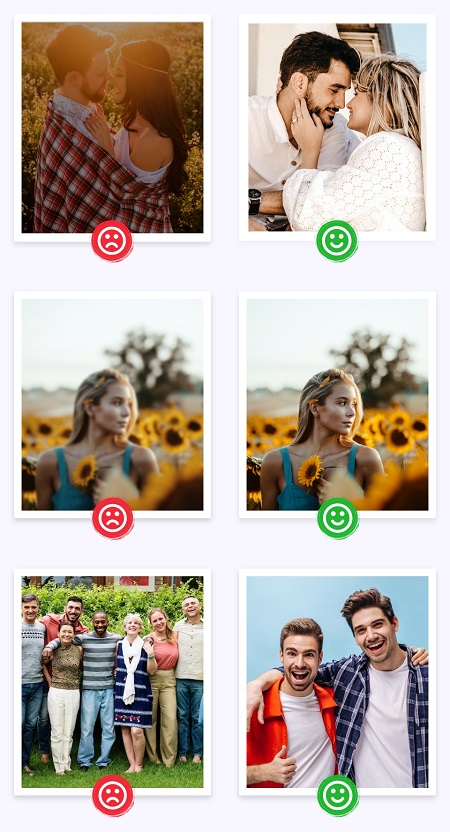 Our satisfied customers rave about the quality of the materials provided with the kit, the accuracy of the instructions, and the stunning results they achieved. Join the conversation and let us know what you think.
Painting was easy to do and turned out very well!! Good for begginers. I initially got the wrong colors but customer support was very helpful and sent me the correct ones afterwards.
I've had 3 canvases, two finished and now working on the third. So life-like, I love them. They do take some time to arrive though (around 3 weeks) so if you are in a hurry pay for Express delivery
Easy to do, a perfect present for me niece who has enjoyed every second painting a picture of her and her horse. Highly recommend.
You think that it won't be enough paint but I have so much left over and the quality is so much better than expected this is an amazing gift idea and a fun thing to do
Absolutely loved doing this. I was so amazed at how well it came out. Wanted to do something myself but not being artistic this is the next best thing. LOVE LOVE LOVE IT..
Very pleased with this painting up to now. In progress, will take a while to finish but enjoying doing it
Great customer service. My dog bit into some of the paint pots and they helpfully replaced them free of charge. Would very much recommend.
Create your custom paint by numbers and save 50% on your order!
Our top notch artwork will enliven your space. You can choose from a variety of themes, styles, and concepts in our collection. Our artwork is carefully curated to ensure that it meets the highest standards of quality and aesthetic appeal. Whether you're looking for a bold statement piece or a subtle accent, our collection has something for everyone.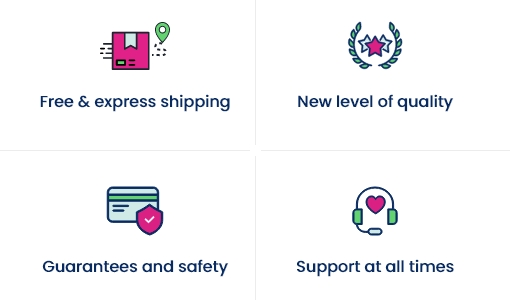 Frequently asked questions
All your custom paint by numbers questions answered!
What is custom paint by numbers?
Custom paint by numbers is a unique process of transforming your favourite photo or image into a paint by numbers kit that you can then paint yourself.
What types of photos are best for custom paint by numbers?
Photos with high contrast and clear details work best, such as portraits of pets, landscapes, and personal photos.
How long does it take to complete a custom paint by numbers canvas?
It depends on the size of the canvas and your level of experience. Some people finish their paintings in a few hours, while others take a few days.
How do I get started with custom paint by numbers?
Simply upload your photo and choose your canvas size. We'll create a unique canvas size. We'll create a unique canvas with your photo and send it to you with everything you need to paint.
Can I choose the colours for my custom paint by numbers canvas?
No, the colours are pre matched to your photo to ensure an accurate representation.
What size canvas should I choose for my painting kit?
We offer a variety of sizes to choose from depending on your preference.